Reactions As Father Mbaka Warns President Buhari To Stop Imposing Suffering On Nigerians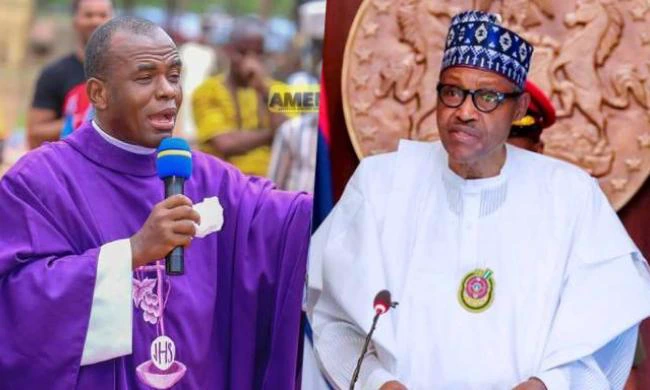 Reverend Fr Ejike Mbaka, Spiritual Director of the Catholic Adoration Chaplaincy in Enugu State, has implored President Muhammadu Buhari to reverse the Central Bank of Nigeria's cashless economy policy. He claimed that the policy has not been effective, instead having a destructive effect on the country's economy and putting many at risk of death.
On Sunday, during a homily at the Adoration Chaplaincy ground in Enugu, Mbaka voiced his concerns about President Buhari potentially leaving behind Nigerians with unbearable hardship and suffering. He questioned why the president would not reverse "dirty, rubbish, wicked and barbaric policy" if someone advised him to do so.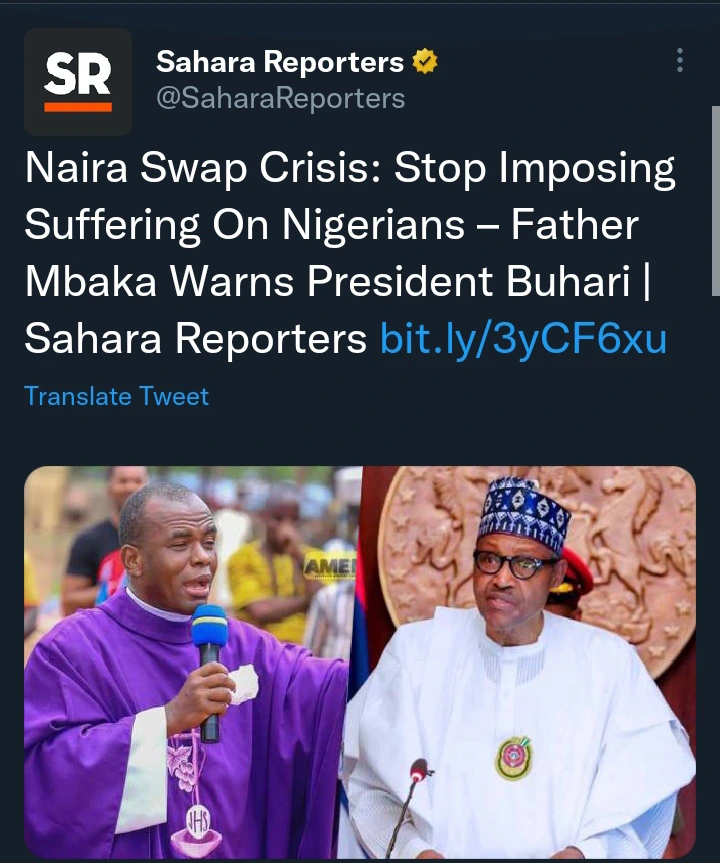 He went on to say that making a cashless economy should not be done by a "military coup d'etat" and must be done gradually instead. Furthermore, he noted that banks are closing, businesses are collapsing, and industries are collapsing – all of which could lead to Nigeria's downfall.
READ ALSO:-Naira scarcity: Radio presenter slumps, dies trekking to office
READ ALSO:-Rev. Fr. Ejike Mbaka Finally Reacts To Naira Scarcity And The Outrageous Charges Of POS Agent
READ ALSO:-Peter Obi Has Caused Tribal War Between Igbo And Yoruba,95% Of My Yoruba Friends Voted For Him -Donu
The catholic priest, with a passionate tone, suggested that in a nation that was functioning properly, the government would test out new policies and provide incentives to those who were eager to take part.
Furthermore, he argued that the proposed policy needed to be stopped and reversed before it further caused trouble for citizens. He further emphasised that some businesses still need to rely on cash until the country's condition improved. Lastly, he asked the people behind the policy if they have managed businesses or are in business, to understand the implications of the policy.
Below are how some persons reacted: