Stephen Bear Jailed For Sharing His Sεx Tape With Ex-Girlfriend, Georgia Harrison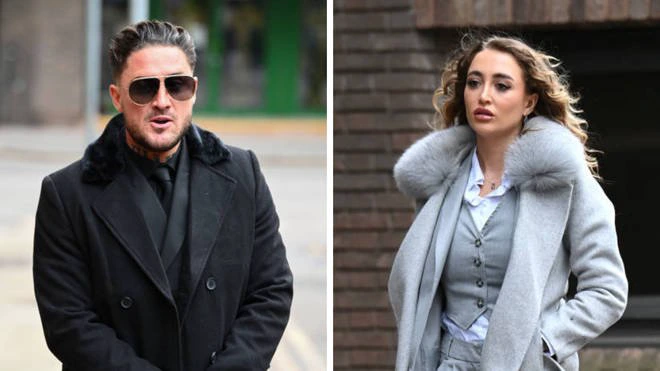 The 33-year-old reality star was sentenced to 21 months in prison for uploading a video to OnlyFans of himself and the Love Island star having sex without her permission.
It was gathered Bear more than £2,000 on his OnlyFans account after sharing the video which was captured captured on CCTV cameras in Bear's garden on August 2, 2020.
Ms Harrison, 28, said that when Bear showed her the footage, she told him "never to send" it to anyone and "made it plain how upset she would be if he did", the prosecutor said.
The complainant said that she saw Bear send the footage to someone on WhatsApp that day, and later that year she was made aware that it was circulating online.
The Love Island star said that Bear uploaded the footage "either himself or had it uploaded to OnlyFans and profited financially".
During the trial, the reality star denied all charges and claimed that he deleted the footage that day and had shared it with no-one other than Ms Harrison.
In December last year, Bear was found guilty at Chelmsford Crown Court of voyeurism and of two counts of disclosing private sexual photographs and films with intent to cause distress.
On Friday, February 3, 2024, Judge Christopher Morgan sentenced the reality star to 21 months in prison and ordered him to sign the sex offender register.
Bear was also given a restraining order not to contact Ms Harrison for five years. He will have notification requirements to keep police updated with his address and whereabouts for 10 years.
Judge Morgan said Bear had been motivated by a wish "to exploit the economic value of the recording", and that he had caused Harrison "extensive humiliation and embarrassment".
"I'm sure that you recognised the enhanced economic value to you by having Georgia Harrison, a well-known reality TV and social media personality, in the video," the judge told Bear during sentencing.
After Bear was jailed, he waved from the dock and said: "Have a good evening. Enjoy the weekend everyone."
Speaking outside court, Harrison said she was "happy and relieved that this matter is finally over".
"Today's sentence is a vindication of what I've been put through and sends a clear message that the police and the courts take this matter very seriously," she said.
"I want to let all other victims of this crime know that I stand in solidarity with them and I have absolutely no regrets on waiving my anonymity.
"I hope that this puts anyone off committing this sort of crime and I hope for anyone else who has been a victim of it [that] it gives them some sort of justice."
READ ALSO:-Rare video of Wizkid with his father melts hearts
KanyiDaily had also reported how a 19-year-old girl, Miss Charlotte Delhi was arraigned for allegedly attempting to blackmail a Bayelsa government official by sharing his nude video.