The 11 best new shows on Netflix in 2023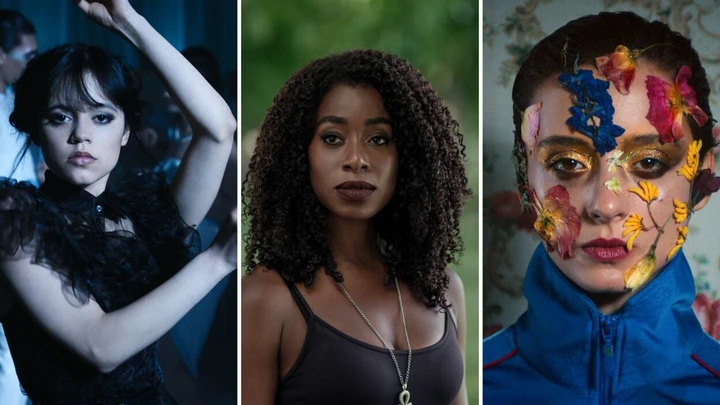 "Wednesday," "The Sandman," and "Copenhagen Cowboy" Credit: Composite: Mashable / Courtesy of Netflix
Netflix has a lot of content. Like, a lot. Sifting through all the TV shows streaming there can cause chronic indecision, leaving us scrolling down the Netflix main page just trying to pick something to watch. Instead of getting overwhelmed and rewatching a Netflix OG classic like Stranger Things, The Queen's Gambit, or The Crown, here's a strategy suggestion: Only watch the good Netflix shows.
Of course, finding out which ones are good takes time. Let us carry some of that burden and list the best new Netflix original series released in the past 12 months.
1. Wednesday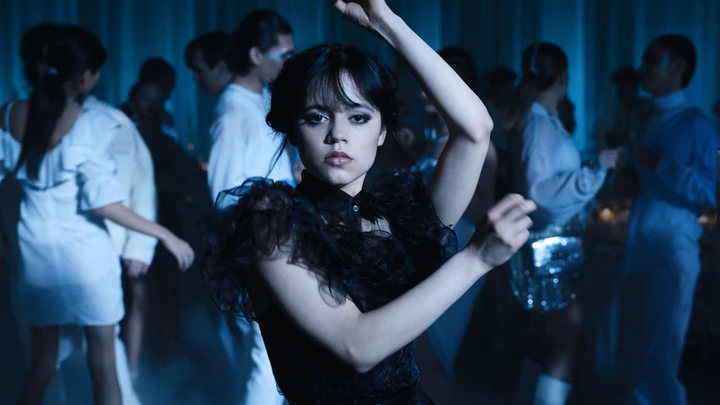 "What would Wednesday do?" has been a mantra for some of us ever since Christina Ricci dead-panned her way into our hearts in The Addams Family films of the 1990s. Thankfully, Tim Burton's reimagining brings some of that same gothsploitation magic here to a new generation, with our favorite current scream queen Jenna Ortega taking on the eldest Addams child for eight episodes of black-hearted teenage angst set among the cliques of Nevermore Academy. See Wednesday scowl! See Wednesday glare! See Wednesday dance, dance, dance, and her best buddy, the disembodied hand Thing, snap, snap, snap!
Catherine Zeta-Jones and Luis Guzmán show up here and there as Morticia and Gomez, and Fred Armisen's Uncle Fester weirds us out for one episode. But the series mainly belongs to the young cast of Potter-adjacent characters at Nevermore, including Wednesday's alarmingly cheerful roomie Enid (Emma Myers) and human special effect Gwendoline Christie as Principal Weems. And in the grand tradition of horror heroines like Bella Swan (Twilight) and Sookie Stackhouse (True Blood) before her, Wednesday even finds herself trapped between two possible love interests! Even if the concept of "love" makes our goth queen more likely to puke than most. – Jason Adams, Freelance Contributor
2. The Sandman
Long considered unadaptable for the screen, Neil Gaiman's long-running comic series about the Lord of Dreams and his world-hopping adventures (as well as those of his fantastical alliterative siblings Destiny, Death, Destruction, Desire, Despair, and Delirium) did almost get turned into a movie about a decade ago starring Joseph Gordon-Levitt. Thankfully, that iteration stalled though, because a long-form series is where these stories have always truly belonged.
Netflix's take, with ruby-lipped goth wisp Tom Sturridge in the lead, hits more right notes than wrong – Boyd Holbrook is scary-sexy and gay as all get-out as the nightmare turned flesh The Corinthian (ooh, them eyes), and a stand-out arc involving the great David Thewlis as a man who makes people tell the truth is unsettling stuff. All that, plus the great Gwendoline Christie (her again!) as Lucifer, and a bonus animated episode about a cat! Don't sleep on this one. – J.A.
3. Copenhagen Cowboy
You're either all in or you're not when it comes to the slow-cinema hallucinations of Drive filmmaker Nicolas Winding Refn at this point, after movies like Only God Forgives and his Amazon Prime series Too Old To Die Young have pushed his stylistic excesses to new extremes. Until David Lynch makes a new season of Twin Peaks, these six hours of neon Danish dreaming – about a young woman named Miu (newcomer Angela Bundalovic) who gives off good luck and finds herself enslaved for it – are the trippiest, ballsiest, most-cinematic minutes currently uploaded onto our TV screens.
My recommendation: Turn off all the lights, sink into your couch, and let Refn carry you off into this fresh, weird world of silent assassins and sex-worker tableaus and that old guy from Triangle of Sadness and so, so, so many pigs. There is absolutely nothing else like it out there. – J.A.

How to watch: Copenhagen Cowboy(Opens in a new tab) is streaming on Netflix.
4. Guillermo del Toro's Cabinet of Curiosities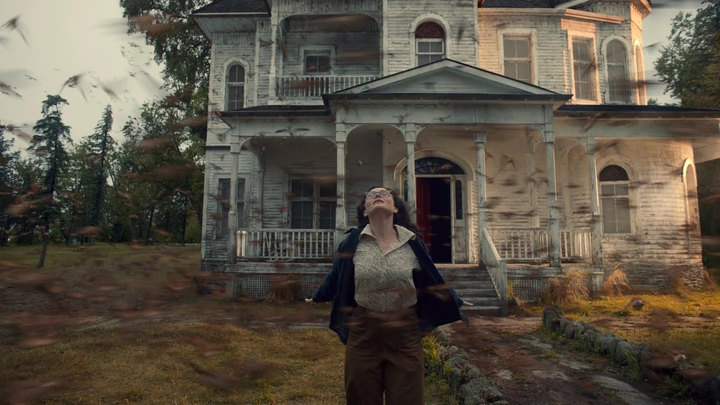 Anthology shows are always a mixed bag, like the sack of Halloween candy you used to dump out on the floor when you'd get home from trick-or-treating – you've got your gold prize peanut butter cups smashed side by side with half-browned apples. But leave it to the master of horror Guillermo del Toro to top-line a batch of goodies here whose batting average ranks much higher than most. I'd say a full seven of the eight standalone episodes (from the likes of Mandy director Panos Cosmatos and Cube director Vincenzo Natali) rank as truly delicious, with only one moldy fruit in the whole bunch (sorry, "Dreams in the Witch House," you just didn't work for me, although the episode has its fans).
I'd rank one episode as a bonafide, full-blown, top-notch masterpiece: "The Murmuring" from The Babadook director Jennifer Kent is everything a magnificent ghost story should be. Steeped in an almost unbearable sense of sadness and regret, the episode is about a pair of married ornithologists mourning their dead daughter who head to a remote house to record birdsong. It reunites Kent with her Babadook star Essie Davis and gives The Walking Dead actor Andrew Lincoln his best role ever. Like all hauntings, it sinks deep into your bones and refuses to let go. The series sings in its many moments like this. – J.A. 
READ ALSO:-Where can I watch American Horror Story, and what is it about?
READ ALSO:-Another SA musician died in the morning
READ ALSO:-VIDEO: Rivers Election Result Sheets Allegedly Found In Bush
5. Love is Blind Season 3
What can we say? As far as dating reality shows go, this one has found a way to continue intriguing, several years in. Piling a bunch of desirables into individual "dating pods" and forcing them to have extensive and deeply intimate conversations with one another, sight unseen, remains hypnotic stuff — as do all of the reveals that come later once the couples-to-be are confronted with their choices. Even as the format has hardened into one we've become familiar with, after two full seasons and side-events like "After the Altar," there's something irresistibly voyeuristic in it that refuses to lose its juice. It's the sweetest spot for reality television. Season 4 premieres not nearly soon enough on March 24. – J.A.
6. Dahmer – Monster: The Jeffrey Dahmer Story
Controversial for centering and some argue romanticizing serial killer Jeffrey Dahmer's side of things, Ryan Murphy's series proved a cultural lightning rod from all angles except one: It's been a massive success for the streamer. Not just numbers-wise – and seeing as how sketchy Netflix is with sharing those, who truly knows how any of that translates into actual eyeballs – but also with awards bodies. The show's been racking up nominations and wins for the series itself alongside actors Evan Peters, Niecy Nash, and Richard Jenkins all year long. Netflix has green-lit two more installments of Monster; John Wayne Gacy, get ready for your close-up!
As for Dahmer – Monster: The Jeffrey Dahmer Story, while occasionally as clunky as its weirdly repetitive title, the series does at least try to fight its more lurid instincts and give voice to Dahmer's victims, even as the families of said victims decried the series for digging up their worst nightmares all over again. It's never as successful at that as The Assassination of Gianni Versace was, which is still to my mind the best thing Ryan Murphy's ever slapped his name onto, but the tension is thick and the horror is genuine. And Peters is genuinely impossible to look away from, even when we really, really want to. – J.A.
How to watch: Dahmer – Monster: The Jeffrey Dahmer Story(Opens in a new tab) is streaming on Netflix.
7. You Season 4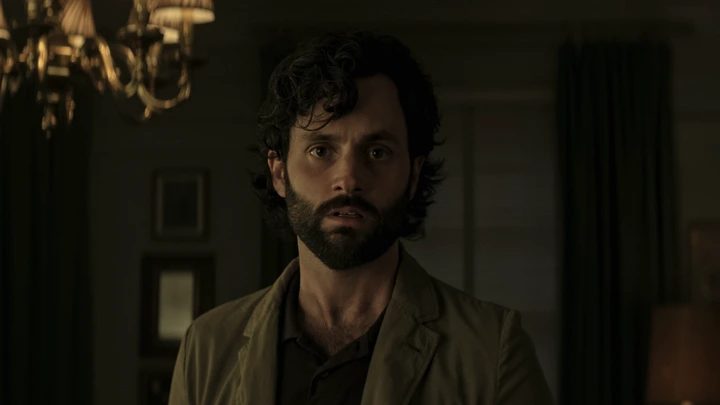 If you prefer the fictional to real-life serial killers, then maybe the ludicrously soapy stalker stylings of Penn Badgley's Joe Goldberg aka Will Bettelheim aka Jonathan Moore are more your jam? Dragging the relationship thrillers of ye olde Lifetime Network into the modern age, this series, based on Caroline Kepnes' books, has seen our tender-eyed, gorgeous-coiffed bookshop owner with the penchant for most diabolical murder somehow live to kill another and yet another day.
So, as Joe-now-Jonathan enters Season 4, he's ditched his past and hopped 'cross the pond to jolly old Londontown, where he's become a professor of English, when suddenly his new friends start dropping dead around him. Twist! The stalker becomes the stalkee! And toxic masculinity is again on the chopping block in a show that is somehow still finding ways to delight in prodding at our culture's most sensitive sex spots (even if Penn does frown upon(Opens in a new tab) that sort of thing in real life). – J.A.
8. Stranger Things Season 4
Perhaps this is a no-brainer and you've probably all binged this by now, but if not, hear me out: Season 4 is arguably the best season since Stranger Things began. Heck, I might even go a step further and call it the show's best season, period. Season 4 of Netflix's smash streamer-defining series saw the kids of Hawkins battling a brand new evil force bubbling up from underneath the floorboards. Dubbed Vecna, the hyper-intelligent floating demon thing starts off by killing several teens in truly horrific bone-snapping fashion. Even if you don't think it's the show's best season, it is by far the show's darkest and scariest run of episodes, taking a hefty dose of its '80s inspiration this go-around from Wes Craven's A Nightmare on Elm Street.
Complaints remain that the show has too many characters; an entire parallel storyline that splits off the adults and sends them to a Russian gulag does feel slightly extraneous. But when the Duffer Brothers are so good at introducing new folks and making us adore them within the span of a couple of episodes — such as with this season's breakout, Joseph Quinn playing rockin' Dungeon Master Eddie Munson — I don't really care; I just want every single one of these kids to make it to the Clinton Years intact and happy ever after. And if you haven't gone "Running Up That Hill" with Max (Sadie Sink) yet, well, just you wait. The fifth and final season is probably still ages off, but we cannot wait. – J.A.
9. Bridgerton Season 2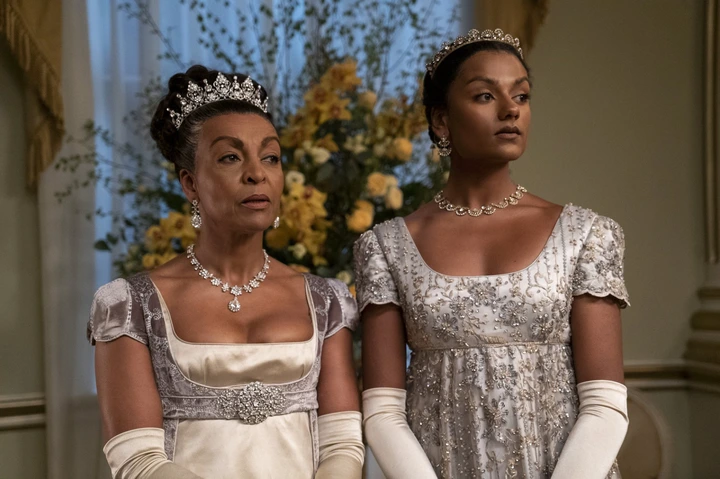 Yes, technically a second season of a hit show isn't exactly "new," but Bridgerton's clever anthology format ensures that each season has its own main character, love interest, and a totally unique story. Season 2 focuses on Anthony Bridgerton, Daphne's elder brother and the 9th viscount Bridgerton. Anthony's search for a suitable, perfect wife gets totally derailed when he meets the Sharma sisters: sweet, suitable Edwina and argumentative, difficult Kate. The drama, the love triangles, and of course the music are all in top form for a slightly raunchy, always fun British romantic period piece. — Alexis Nedd, Senior Entertainment Reporter 
10. All Of Us Are Dead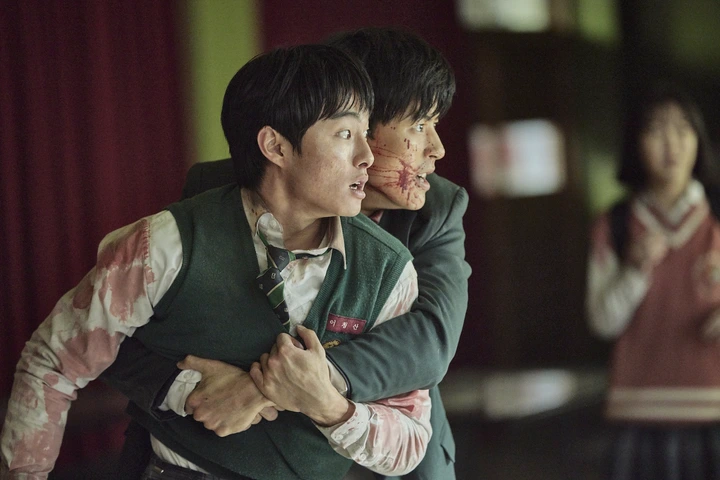 This South Korean series from Lee Jae-kyoo and Kim Nam-su follows a zombie outbreak that begins at a high school, then spreads ruthlessly throughout the city. As zombie thrillers go, the action and gore are spectacular, displayed with slick cinematography and outstanding production design. Chun Sung-Il's writing follows constantly unspooling narratives and new character combinations, so the survivalist side of the drama never grows stale. Through all that, our anchor is Hyosan High School, ground zero for the outbreak, where a dwindling group of students fight to survive and escape. A zombie apocalypse can be pretty terrible, but living through it with a crush who doesn't want to kiss you even on the brink of death? Brutal. — Proma Khosla, Senior Entertainment Reporter
11. Murderville
Murderville is not so much a parody as it is a work of cleverly experimental comedy that toys with our mystery-solving expectations by layering in the spontaneity of improvisation. With Will Arnett's steady hand guiding every episode and the energy shifts each new clueless celebrity guest brings, Murderville carefully splits its time between challenging viewers to follow the clues and leaving them breathless with anticipation and laughter as they watch to see which talented performer breaks character next. —Adam Rosenberg, Senior Reporter