White woman leaves residents in Spain stunned as she backs baby with wrapper (Video)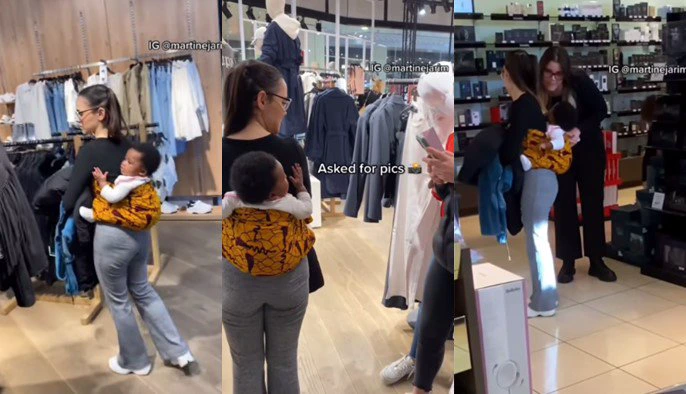 An Oyibo woman conducted a social experiment in Spain to see how residents would react to her carrying her baby on her back.
She shared a video which showed when she put the baby girl on her back and used a wrapper to keep her in place like African mothers usually do.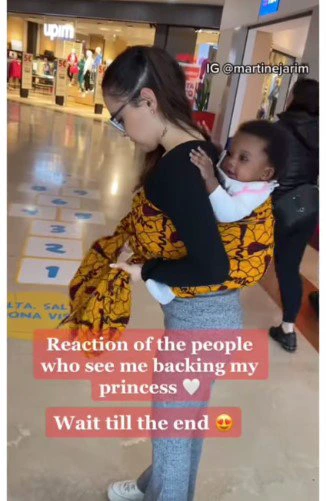 The woman carried the child on her back while walking round a shopping mall and it attracted attention of other shoppers.
She moved from one store to another and at every turn, some white people could be seen looking at her in amazement.
Some of the people approached her to take pictures and others wanted to play with the baby she was carrying.
In reaction, babzz______; Indeed, our parent were so right backing us.
funkkyyfash; Western world about to turn this to money
zionifyify; My sweet Igbo brothers at work 🙌🙌🙌🙌….. The evidence is on the rapper 🤣😹🤣😹
kdkglobal; Only my wife can relate when she did this in Dubai mall.
_joyilekhaize; Something wey be normal thing for here 😂😂
derydana_skincare; That means if I travel out with my baby..Dem go snap us tire, because I prefer this back
mosesalfred91; This particular wrapper is from Nigeria.
READ ALSO:-Nollywood Celebrities Who Dumped Christianity For Islam For Claims Of Better Light. See The Stories
READ ALSO:-"I Cover My Mother With The Blood Of Jesus" – Ayra Starr Reacts After Sharing A Video Of Her Mother
READ ALSO:-Tinubu: Zelensky under fire for congratulating Nigeria's President-elect
mr__landlordd; This is best way to carry your baby when going out not by putting the baby inside carrier or bag
opusunjuambrose; Why are they looking at her that way
houseofbimosh; It's so cute , wo wrapper is the best jare , if you use a carrier , there are limitations to chores you can do but if the baby is at the back you can do your chores easily.
Watch the video below: